Here is the digital magazine enVue – voir plus loin
An experienced editorial team discusses the latest news from the Canadian optical industry and discusses topics that eye care professionals can use every day.
They will find a lot of information on lenses, glasses, contact lenses, the latest medical discoveries and clean marketing strategies at the market.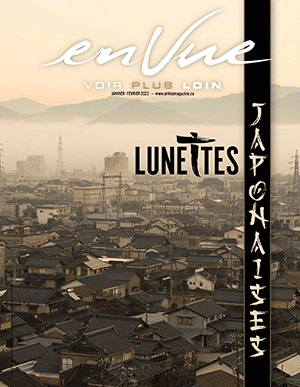 Japanese Eyewear
Japan is one of the world's most important and successful manufacturers of eyewear and its eyewear brands — from Matsuda to Eyevan — are among the most renowned. This feature will explore the country's eyewear tradition and look at how its inventiveness and technical know-how inform eyeglass designs.
En Vogue: Beating the winter blues with colourful eyewear!
4660, Montée Saint-Hubert, Saint-Hubert, QC, J3Y 1V1
450 629-6005 / 1 888 462-2112
envue@bretoncom.com
www.bretoncommunications.com

PRESIDENT/PUBLISHER
Martine Breton
martine@bretoncom.com

EDITOR IN CHIEF
Lorraine Boutin
loboutin@hotmail.com

CONTRIBUTORS
Kim Auclair
Me Catherine Lamarche
Olivier Schmouker

COPY EDITOR / RESEARCHER
Omar Chraïbi
editorial@bretoncom.com

MEDIA/ADVERTISING COORDINATOR
Vanessa Pelletier
advertising@bretoncom.com

DISTRIBUTION ASSISTANT
Vanessa Pelletier
support@bretoncom.com

SUBSCRIPTION
envue@bretoncom.com

GRAPHIC DESIGN
Marco Gagnon
design@bretoncom.com

ADVERTISING
Martine Breton
martine@bretoncom.com
1 888 462-2112
Tél.: 450 629-6005
Téléc.: 450 629-6044

PRINTING
Miromédia

Published six times a year

Legal deposit
Bibliothèque et Archives Canada
Bibliothèque et Archives nationales du Québec
ISSN 1925-8828 (Imprimé)
ISSN 1925-8836 (En ligne)

Canadian Publication Mail
Product convention
NO 40021196
Postage Paid in Quebec

Any reproduction, in whole or in
part, of the herein publication, is
strictly forbidden, without the
written authorization of the
publisher.

Printed in Canada