January / February
What do women want?

Find all the latest trends in frames. The models presented are adapted for all types of faces and all styles for women. What are this year's must-have trends? Many designers are now offering frames to suit all women's tastes. Women can turn to mixed, coloured, adorned, translucent and light materials while benefiting from the latest technologies. An accessory perfectly adapted to their physiognomy, trendy or classic while being of an irreproachable comfort. Brands and artisans are not short of ideas and will delight us with the many variations available.
En Vogue: Shapes: Flower glasses, oversized arches, variable geometry glasses. Let's not settle for basic shapes anymore!
---

March / April
What lenses for presbyopes are available on the market?

Thanks to the progress made in contact lens design, the choice of lenses available today offers unique visual comfort for everyday situations, whether you already wear lenses or not. The option of progressive contact lenses on the market can be attractive in the case of presbyopia in order to avoid the burden of glasses. But are they effective in all situations? Answers and thoughts from specialists.

En Vogue: Colours: Art history teaches us that colours hold the power of sensitivity. As true virtuosos, the creative eyewear makers also have the soul and the artistic fiber!
---
May / June
Why is it important to design your display?

Today, to stand out from the competition and no longer be just another business, it is sometimes necessary to dare to put yourself on display and work on your image to attract customers, whether in your clinic, shop or on your Web site. A few notions of merchandising to look like no one else!

En Vogue: Sunglasses: Let the sunshine in!
---
July / August
Stop building customer loyalty, build staff loyalty instead!

Faced with an ever-expanding offer of products and services, consumers are becoming more and more fickle. As a result, companies are constantly looking for loyalty strategies to keep their regular customers and win new ones. Are organizations targeting the right audience? And what if customer loyalty was first and foremost a matter of employee loyalty?


En Vogue: Glasses for children: Two out of ten children will need to wear glasses to correct their visual defects. They might as well look good in their frames and make their little friends with impeccable vision jealous!
---
September / October
All about cellulose acetate
Cellulose acetate stands out for its advantageous properties. This biodegradable material has a good compatibility with other plasticizing products. Eyeglass craftsmen design innovative patterns and colours that they ask manufacturers to produce. Cellulose acetate is therefore particularly recommended for the manufacture of quality eyewear, especially since all skin types tolerate it. Who are the biggest manufacturers in the world? Why is Japanese acetate said to be of better quality than Italian Mazuchelli? Is acetate an environmentally hazardous material? Portrait of a material that has been adorning our faces for many years.
En Vogue: Titanium glasses: Solid, stylish and light, titanium has not finished surprising us.
---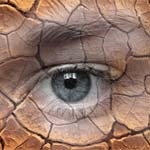 November / December
Dry eyes, the importance of personalizing the treatment for each patient

Dry eye is fast becoming a scourge among adults. 30 per cent of the population is said to suffer from the pain and discomfort associated with this medical condition. Many describe it as feeling like they have a grain of sand in their eye or a strong urge to keep closing their eyes. How do you customize a treatment for each patient?

En Vogue: Stylish eyewear for athletes: For all sport activities, everyone can find a frame!