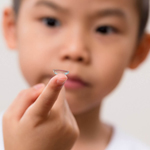 January / February
Contact Lens Care for Children

Contact lens care requires precision, attention and follow-up, and pediatric contact lens care is especially demanding. How can ECPs work effectively with young patients and their families to achieve the best outcomes? This feature tells you what you need to know to build a successful practice in this area.
En Vogue: Luxury eyewear
---

March / April
Eco-responsibility in the Optical Industry

Companies in every field are committing to environmental sustainability. More than reducing paper waste and turning off lights and electronic equipment at the end of the day, eco-responsibility requires a commitment to changing everyday behaviour in the workplace. Experts and thought leaders share their suggestions.
En Vogue : Belgian eyewear
---

July / August
Quality Sunwear

Good-quality sunglasses provide essential protection against harmful UV rays and HEV light, as well as the latest in stylish design. This survey of sunwear fashion looks at who's wearing what and why. Here's what's new in jazz and sporty sunwear for summer 2020.

En Vogue: Americas eyewear
---

September / October
Tomorrow's Showcases Today

Eye-catching interactive window displays are a good way to attract new clients to your store. Without even setting foot inside, they can try on optical frames and sunglasses virtually from the street. More than a tactile catalogue, these displays allow users to interact, provide an email address or phone number and even complete a quote request form. Discover what's new in the exciting world of interactive optical displays.
En Vogue : Teens eyewear
---
November / December
Vision Care for Seniors
Seniors face unique vision challenges. Fortunately, there are optical solutions for many of the issues this growing demographic group faces. Low vision aids are also helping to improve the quality of life for many seniors who need good vision to read, watch movies and pursue other activities. This issue features optical products designed with the needs and concerns of seniors in mind.

En Vogue: Sports eyewear
---