January / February
Japanese Eyewear

Japan is one of the world's most important and successful manufacturers of eyewear and its eyewear brands — from Matsuda to Eyevan — are among the most renowned. This feature will explore the country's eyewear tradition and look at how its inventiveness and technical know-how inform eyeglass designs.
En Vogue: Beating the winter blues with colourful eyewear!
---
March / April
Sunwear: Latest Trends

The only problem with today's sunwear is that the industry has created an embarrassment of riches! This feature will highlight sunglasses that will wow you and your clients. Chic or practical, they suit the lifestyles of a wide range of customers without sacrificing style.
En Vogue: Eyewear for the Little Ones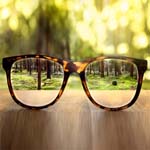 May / June
Ecology in the World of Eyewear: A Dominant Concept or a Fashionable Slogan?

The environment is top of mind today and this has led to changes in the production and consumption of eyewear. Eco-responsible production is becoming increasingly common as consumers demand environmental accountability and eyewear is no exception. We present an interview with Dominique Cuvillier, an expert on eyewear trends, a regular at optical trade shows and a writer, whose latest essay is: La vie en vert, Guide des lunettes écolo. (Life in Green, Eco-eyewear Guide)
En Vogue: Feminine Eyewear
---
July / August
How to Build an Ideal Team

Building a dream team that communicates well and cooperates effectively can be challenging. What makes a good team and how do you create one? Here are some ideas from specialists in the field and from a clinician who has met this challenge.
En Vogue: Multi-shaped Glasses
---
September / October
Innovations We Applaud
Every year, at SILMO, MIDO and other international trade shows, companies present eyewear-related innovations of all kinds. Here are some innovations from recent years that have attracted the attention and votes of trade fair juries. We also look at the criteria for winning prizes. Is winning a guarantee of success after the show? Several recent finalists and winners relate their experiences.
En Vogue: Spanish Eyewear
---
November / December
Luxury: Telling a Story

Luxury frames tell a story. ECPs must understand these stories because luxury consumers know what they want and make sure they find it. This feature will highlight an array of luxury collections that will turn the heads of consumers with the refinement and means to choose from among the world's finest eyewear offerings.
En Vogue: Light Glasses